Microprocessor Based PID Controller
PID auto tuning
Multi range input: J / K / E / R / S & PT-100
Relay / SSR / 4-20 m ADC control output
Relay alarm output
Free range voltage 90~265 VAC.50 Hz

ST-48 Size 48x48 DIN 1/16
ST-4896 Size 48x96 DIN 1/8
ST-9648 Size 96x48 DIN 1/8
ST-72 Size 72x72 DIN 1/4
ST-96 Size 96x96 DIN 1/4

ST- A B
A=Model No.
B=R-Relay
V-SSR Drive
I-4-20 mA DC
Microprocessor Based PID Controller
ST-496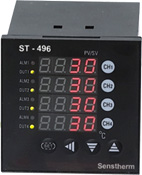 Micro-processor base 4 channel PID Controller with universal input (Same input type for all PID) with 4 individual display & individual PID parameter setting with 4 control relay output & 4 soft alarm display universal power supply & compact 96 x 96 x 110mm design, available with RS 485 or direct 18 coloum printer interface as option.
Microprocessor Based Humidity + Temp. Controller
RHTC-9007C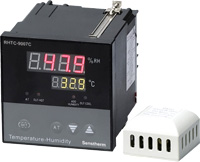 Micro-processor based Humidity + Temperature Controller with sensor unit having auto tune PID control for temp. & on / off control for refrigeration, dual set point hysterisis control for humidifier with password protection. RS 485 / miniprinter interface as optional.
Temp. Range
:
-50°C to 150°C / Humidity o~100% RH
Output Relay
:
10 Amps. 230V AC
Accuracy
:
Temp. ± 0.5% F.S. ± 1 Digit
Humidity ± 2% F.S. ± 1 Digit
Sensor
:
PT-100 + Humidity with 1.2 mts.
Cable length as standard
Power
:
Universal 90 ~ 264V AC. 50Hz
Size
:
96 x 96mm x 120mm