Solid State & Mechanical Switching offers you cost effective solutions
Solid State Relays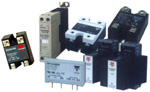 Single and three Solid State Relays for panel mounting. 5 switching types: Zero Switching, Instant On, Peak Switch, Analog and DC Switching, up to 110A. SOLITRON - ready-to-mount Solid State Relays with integrated heatsink, one, two and three - pole output. SOLITRON Mini-compact 22.5mm Solid State Relays for DIN-rail mounting with integrated heatsink for applications up to 30A.
SOLITRONS RJ2A, RJ3A
Superior switching solution for frequent commutation of 3-phase loads up to 25kW
45mm wide housing - carry a maximum current of up to 3 x 25 Arms
90mm wide housing - carry a maximum current of 3 x 25 Arms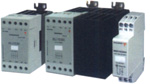 RMD
Solid State relay and Electro-mechnical relay combined in one hybrid product.
Longer lifetime-does not require an additional heatsink.
Motor Controllers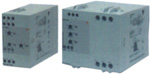 Motor Controllers for soft start/stop of asynchronous motors up to 45kW (60HP). Compact housings for DIN-rail mounting. Controllers for dynamic braking and reversing.
RSB
Economical open board design and ideal for high volume applications: compressors, vacuum system, & etc.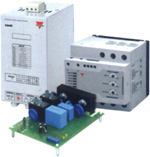 RSHR
Vibration free starting, Integrated heatsink, Over-temperature protection, phase sequence & loss protection.
RSMR
Compact, 10 pre-programmed start/stop profiles, phase loss protection at starting, fault status indication.