SMART SENSOR - SMARTEC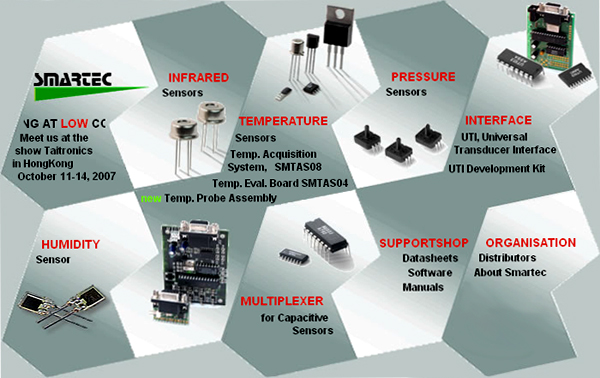 Humidity, Pressure, Infrared, Temperature
Smart Temp. Sensor
No A-D Converter
TTL, CMOS Compatible
Pull Output - Digital / Analouge Interpretable
Directly Connectable to Data Input of Micro Processor
Easy Multiplexing for multiple sensor to Micro Processor
Range : 45 Deg. to 130 Deg. C
Smart Humidity Sensor 
Linear 0V 100% RH
Long Term Stability
Close Tolerances
Capacitance Output
Also Available - Evaluation & Development Boards, Humidity Sensor with 1V ~ 3V on PCB - 30V ~ 90% Rh.
Smart Infrared Sensor
Non-contact Temp. Measurement
Rang - 100% Deg. C to +200 Deg.
Smart Pressure Sensor 
Gage of Absolute Pressure
Easy to DIP Package
Voltage or Current Drive
Full Scale Range from 0.350 to 6.5 Bar
Universal Transducer Interface
Easy Interfacing with Micro Processor
Provides Interfacing for many types of sensors elements, Capacitors, ROT, Thermistors, Resistive Bridge & Protection Meter
Tri-State Output
Auto Calibration
Resolution upto 16 Bits
Measurement of multiple types of sensor element & combination thereof.