Monitoring & Controlling in line with your applications !
Monitoring Relays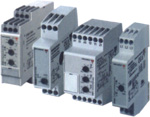 1-phase monitoring relays for current, voltage, power and frequency. 3-phase monitoring relays for voltage, phase sequence, phase loss and phase asymmetry, over & under monitoring as well as power factor and active power. Plug-in "11pin" housings or 17.5/22.5/45mm Din rail mount housings. Current transformers and shunts.
DPA53
480VAC phase monitoring relay in compact housing; with relay output, detects under voltage and improper phase sequence or phase loss
DIA53
Self - powered 100A current monitor in 17.5mm housing.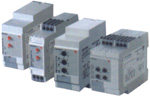 DFCO1
Full functions frequency monitoring relays. Allows different relays outputs to react to under or over frequency.
DTA/PTA
Temperature monitoring relays to protect 3-phase electrical motors from overheat.
Timers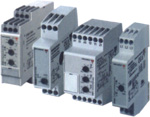 Single and multifunction timers, multivoltage, 17.5 & 22.5mm housings for DIN-rail mounting, P-series for plug-in, A-series in 48 x 48 mm housing for plug-in and panel mounting. Scantimer compact housing for plug-in mounting. Mini E-series (22.5mm) for DIN-rail mounting.
DMB51
Multifunction timer in a compact, space saving 17.5mm DIN rail housing.
DAA51
Delay on operate, time range 0.1s to 100h.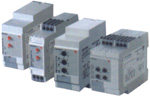 DBB51
True delay on release, time range 1 to 600s, capacitor powered.
DAC51
Star delta, time range (Star) 0.1 to 600s, time range (Star to Delta) 50 to 130ms.