High Power Thermoelectric Cooling Module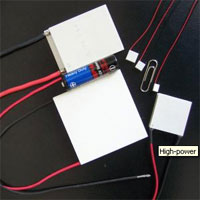 Thermoelectric Cooling Modules (Peltier cooler) or TEC module, the soldering quality is assured with small joint resistance. With excellent assembling techniques, thinner cooling materials can be adopted (at 0.8mm minimum). For all of the reasons listed above, can produce high-power Thermoelectric Cooling Modules with the maximum current of 30 amps, and the cooling power of more than 400 watts.
In addition, company uses the double-sided copper thin ceramic plate or aluminum plate as the hot-side plate, so it reduces the temperature difference produced by the heat flow throughout the hot-side plate, and enables the Thermoelectric Cooling Module to have a much larger output.

Type Number
Couples
Umax (V)
Imax (A)
ΔTmax (C)
Qmax (W)
L×W×H(mm)
R(Ω)
TEC1-07115T125
71
8.5
15
67
79
38×38×3.50
0.43
TEC1-07118T125
18
67
94.8
38×38×3.30
0.36
TEC1-07124T125
24
67
126.4
38×38×3.10
0.27
TEC1-12708T125
127
15.2
8
67
79.1
50×50×4.50
-
TEC1-12709T125
9
67
101
50×50×4.40
-
TEC1-12712T125
12
67
121.5
50×50×4.20
-
TEC1-12714T125
14
67
123.5
50×50×3.90
-
TEC1-12715T125
15
67
141.3
50×50×3.50
0.7
TEC1-12718T125
18
67
169.7
50×50×3.30
0.65
TEC1-12722T125
22
67
220
50×50×3.50
0.5-0.6
TEC1-12724T125
24
67
126.1
50×50×3.10
0.48
TEC1-16108T125
161
19.3
8
66
101.8
45×45×3.50
1.98
TEC1-16109T125
9
67
113
45×45×3.40
1.8
TEC1-16110T125
10
67
134.2
45×45×3.20
1.44
TEC1-16112T125
12
67
137
45×45×3.10
1.26
TEC1-16115T125
15
67
188.4
45×45×3.00
1.08
TEC1-03125T125
31
3.5
25
67
66
35×35×5.85
0.11
TEC1-03130T125
30
67
80
35×35×5.45
0.085
TEC1-03140T125
40
67
105
35×35×5.05
0.065
TEC1-03150T125
50
67
130
35×35×4.85
0.055
TEC1-03160T125
60
67
160
40×40×4.65
0.045
TEC1-03180T125
80
67
200
40×40×4.50
0.035
TEC1-031100T125
100
67
260
40×40×4.35
0.027
TEC1-03150T125
31
3.5
50
67
130
55×55×5.65
0.05
TEC1-03160T125
60
67
160
55×55×5.35
0.04
TEC1-03180T125
80
67
200
55×55×4.95
0.035
TEC1-031100T125
100
67
260
55×55×4.75
0.027
TEC1-12709T125
127
15.4
9
67
90
62×62×5.30
1.25
TEC1-12712T125
12
68
120
62×62×4.55
0.85
TEC1-12714T125
14
68
135
62×62×4.35
0.85
TEC1-12727T125
16
27
69
315
62×62×3.40
0.45
TEC1-12730T125
30
69
345
62×62×3.35
0.4
TEC-19906T125
199
25
6
68
90
62×62×5.30
3.0-3.4
TEC1-19908T125
8
68
115
62×62×4.50
-
TEC1-19912T125
12
68
178
62×62×4.25
1.7
TEC1-19915T125
15
68
265
62×62×3.85
1.05
TEC1-19918T125
18
68
295
62×62×3.75
0.92
TEC1-19924T125
24
68
360
62×62×3.55
0.75
TEC1-19928T125
28
68
400
62×62×3.30
-
TEC1-19903T125
199
24
3.5
68
50
40×40×4.40
-
TEC1-19904T125
4
68
60
40×40×4.20
-
TEC1-19905T125
5
68
80
40×40×4.15
1.1
TEC1-19906T125
6
68
90
40x40x4.0~4.1
-
TEC1-19910T125
10
68.5
158.12
40×40×3.40
1.65-1.67
TEC1-19913T125
13
67
215
40×40×3.20
1.35
TEC1-19915T125
15.5
68
225
40×40×3.10
-
TEC1-24106T125
241
30
6
68
110
62×62×5.15
3.5
TEC1-24110T125
10
68
195
62×62×4.20
2.16
TEC1-24112T125
12
68
226
62×62×4.05
1.8
TEC1-24115T125
15
68
290
62×62×3.90
-
TEC1-24118T125
18
68
340
62×62×3.70
-
TEC1-26312T125
263
32
12
68
240
50×50×3.60
-
TEC1-26317T125
17
68
340
50×50×3.40
-
TEC1-28706T125
287
34
6
68
130
50×50×4.10
-
TEC1-28712T125
12
68
260
50×50×4.15
2.05-2.15
TEC1-28716T125
16
68
345
50×50×3.95
1.40-1.50